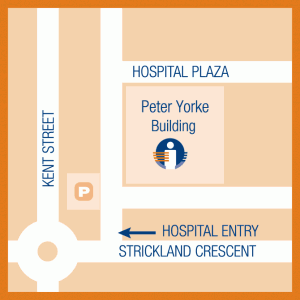 Opening hours
Monday to Thursday
MRI 8.00am-6.00pm
X-Ray 8.00am-6.00pm
CT 8.30am-5.00pm

Ultrasound & Nuclear Medicine 8.30am-5.00pm

Friday
MRI 8:30am-5.00pm
X-Ray, CT 8.30am-5.00pm
Ultrasound & Nuclear Medicine 8.30am-5.00pm

Saturday
CT 9.00am-12.00pm
Ultrasound 8.30am-1.30pm X-Ray 8.30am-1.30pm
Location
Calvary John James Hospital,
Peter Yorke Building
173 Strickland Crescent
Deakin ACT
Fax: 02 6203 2011

Deakin
Canberra Imaging Group's flagship site, Deakin is the largest private imaging practice in the ACT. Deakin provides a comprehensive imaging experience with its extensive facilities and up to date state of the art medical imaging equipment. Deakin is the premier provider of multimodality imaging and allows multiple procedures to be performed in one visit. The Deakin site also provides extensive facilities for patients with mobility issues.
Our new 160 slice ultra low dose CT scanner offers high resolution and faster scan times. This large aperture scanner is suitable for both larger and claustrophobic patients. Deakin also provides advanced CT interventional procedures.
Nuclear Medicine SPECT/CT is used for anatomical localisation and attenuation correction. This correlative imaging combines the sensitivity of Nuclear Medicine with the resolution of CT allowing more precise localisation of pathology and increasing reporting confidence.
The site performs all aspects of advanced diagnostic ultrasound; including musculoskeletal injections, fine needle biopsy and breast localisation.
We are situated on Level 1 within the Peter Yorke Building (formerly the Clinical Services Building).
Booking your appointment at Deakin
For appointments at our Deakin site, please phone 1300 788 508 during the hours of 8.30am to 5.00pm, Monday to Friday.
An online appointment request can be made by clicking on the orange Appointment button (right).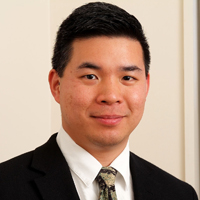 Clinical Director | Dr Meng Chung
MBBS, FRANZCR
Dr Chung completed his MBBS at the University of NSW and trained at Wollongong Hospital, Royal Prince Alfred Hospital and Canberra Hospital. He was a Neuroradiology Fellow at the University Hospital of Wales and Musculoskeletal Radiology Fellow at Cardiff Royal Infirmary (UK). On his return to Australia, Dr Chung was in private and hospital practice in Gosford, NSW, before joining Canberra Imaging Group. He has a special interest in magnetic resonance imaging (MRI) and interventional radiology.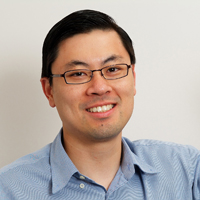 Clinical Director | Dr Raymond Kuan
MBBS, FRANZCR
Dr Kuan is a Sydney University graduate and was a radiology registrar at Royal North Shore Hospital and Nepean Hospital. He was appointed Fellow in Musculoskeletal Imaging at the University of Toronto Health Network (Canada) and joined Canberra Imaging Group on his return to Australia. Dr Kuan is a member of the Australian Chinese Medical Association and is fluent in Malay/Indonesian and Cantonese.


Site Manager | Shamani Pillay
Shamani trained in Durban, South Africa. Prior to emigrating in 2002, she worked at King Edward vii Hospital where she gained experience in all facets of radiography. Although she performs most modalities, her radiographic interest lies in CT, Vascular Angiography and Mammography.
Services
Barium studies
Bone density
Breast Localisation
Cardiac CT
Computed tomography (Multi Slice - CT)
Fine needle biopsy
General x-ray
Long film
3D Mammography
Magnetic resonance imaging (3T MRI)
Musculosketal injections
Myelography
Nuclear medicine (SPECT/CT)
OPG (dental)
PRP Injection
Thyroid consultation