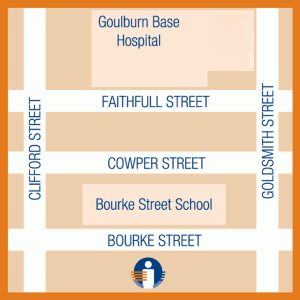 Opening hours
Monday to Friday
8.30am - 5.00pm
Location
Goulburn X-Ray
Bourke Street
Goulburn NSW
Fax: 02 4823 8311
Goulburn X-Ray
Booking your appointment at Goulburn X-Ray
For appointments at our Goulburn site, please phone 1300 788 508 during the hours of 8.30am to 5.00pm, Monday to Friday.
An online appointment request can be made by clicking on the orange Appointment button (right).
Site Manager | Therese Duncan

Therese has 30yrs experience gained in all aspects of radiography working overseas and in Sydney, Canberra until settling locally.
Therese holds a special interest in CT and Mammography.

Clinical Director | Dr David Morewood
MBChB(Hons), MRCP, DMRD, FRCR, FFRRCSI
Dr Morewood graduated from Liverpool University Medical School (UK), and was registrar/senior registrar in radiology at a number of Liverpool hospitals, with a one-year period as consultant radiologist in Oman. Since coming to Australia, Dr Morewood has worked with the Canberra Imaging Group. He has a special interest in general radiology, interventional radiology, fine needle biopsy, joint injections, abscess drainage and nephrostomy.
Services
Bone density
Nuclear medicine
Cardiac CT
Fine needle biopsy
General x-ray
Localisation – breast
Low-dose computed tomography (CT)
Mammography
Musculosketal injections
Nuclear medicine
OPG (dental)
Ultrasound