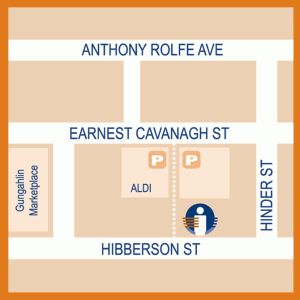 Opening hours
Monday to Friday
8.30am - 5.00pm
Location
43 Hibberson Street
Gungahlin ACT
Fax: 02 6204 3011
Gungahlin
Canberra Imaging Gungahlin is a modern new site that offers a friendly atmosphere while delivering the highest level of care with current technology in equipment; including new Ultrasound machines and 16 slice CT.
Parking is onsite at the rear of the practice and is free to all Patients.
Booking your appointment at Gungahlin
For appointments at our Gungahlin site, please phone 1300 788 508 during the hours of 8.30am to 5.00pm, Monday to Friday.
An online appointment request can be made by clicking on the orange Appointment button (right).


Site Manager | Alex Cartes
Degree in Medical Technology – Obtained in Chile
Dedicated employee to Canberra Imaging Group since 1992.
Alex became the Site Manager for Canberra Imaging Belconnen and is now Site Manager of Gungahlin Canberra Imaging since 2009.
Clinical Director | Dr Brendan Cranney
MBBS(Hons), FRANZCR
Dr Cranney graduated with honours from the University of New South Wales in 1984. After spending his initial hospital years at St George Hospital he carried out two years of training in anaesthetics and intensive care. Dr Cranney completed radiology training at the former Royal Canberra and Woden Valley Hospitals and at Royal Prince Alfred in Sydney, where he held a senior registrar position.
As a radiologist, he has been a Member of the College Council and is a member of the Australian Society for Ultrasound Medicine. He has held visiting medical officer positions at Breastscreen ACT in and Breastscreen NSW as a general radiologist and as chief radiologist. He is a past chairman of the Division of Imaging at Calvary Hospital where he is a visiting medical officer.
Dr Cranney's main professional interest is in breast imaging. The group offers a comprehensive range of breast biopsy techniques, including mammotome (a vacuum assisted breast biopsy device). Dr Cranney also has an interest in percutaneous biopsy procedures and general body imaging.
Services
Computed tomography (CT)
Fine needle biopsy
General x-ray
Musculosketal injections
OPG (dental)
Ultrasound