Introducing the latest in SPECT/CT technology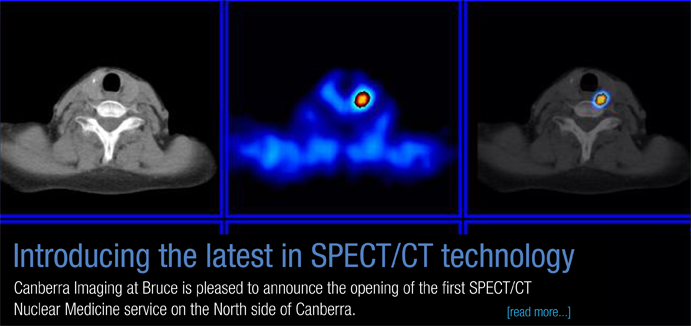 Canberra Imaging at Bruce is pleased to provide the first SPECT/CT Nuclear Medicine service on the North side of Canberra.
The new suite, located in the Calvary Clinic on the Calvary Hospital Campus, provides the latest SPECT/CT Technology along with the Bone Densitometry service.
SPECT/CT combines the technology of the functional Nuclear Medicine data with the anatomical resolution of a CT scan.  The fused data increases the confidence of the reporting physician and enables a more in depth analysis of the condition.
Dose Reduction – automatically adjusting the mA to reduce the dose for low attenuation views and increase the dose for views with higher attenuation angles. Providing a dose reduction of up to 68%.
More Information, Faster – IQ•SPECT needs only 4 minutes for a full-count SPECT scan and just 60 seconds more for CT-based attenuation correction and calcium scoring.
State-of-the-Art Reconstruction – significantly improves image quality, allowing you to benefit from higher spatial resolution, reduced distortion, and reduced artifacts. As a result, images are more accurate and easier to interpret.
Innovative Bed Design – Ultra-thin imaging pallet for increased patient comfort. Scans patients weighing up to 227kg. The patient bed lowers to a convenient 53 cm for easy patient access even for patients with limited mobility